Our Group
Le Bridge Corporation Limited is a vast group with a strong and diversified position in the distribution business within The Republic of Moldova. The group operates in three different fields: Le Bridge Corporation Limited – Distribution, Le Bridge Duty Free – with 8 range of duty free shops and – Sandriliona – ice cream factory, one of the leading companies from the field. Being preeminent in these economic segments of the Moldovan market, the company is constantly expanding and improving the quality of its services while satisfying the desires and needs of its customers.
With 20 years of experience and leading partners, was developed an efficient, national commercial and logistic enterprise. Le Bridge is distinguished by its highly effective management as well as ethical business practices alongside with the highest standards. The company's success is due to its genuine principles: integrity, high quality of services, professionalism and responsibility in achieving its goals.
Le Bridge Group promotes continuous research activity by streamlining and pursuing business diversification in order to conquer new markets. The latter being the key factor in defining the long term development strategy.
Our Philosophy
Le Bridge aspires to the sector leadership, furnishing innovative and competitive services to create value. It's in continuous improvement thanks to the aid of new technologies and high potential resources.
OUR MISSION:
We are committed to build a bridge furthering business relationship between our partners and customers, all resulting in infinite possibilities for our future international expansion.
OUR STRATEGY:
The company has a highly focused business development strategy:
CREATE the atmosphere of integrity, honesty, interdependence and innovation;
ADVANCE the business by new principles introduction;
EXPAND our core business activities into new geographies.
OUR VALUES:
Distribution is our soul
We are guided by the passion for excellence.
Simplicity is our strength
For us, simplicity means being straightforward in all our relationships, to build trust and respect.
Customers are our inspiration
Commitment to providing exceptional Customer service.
Reliability is our trademark
We never compromise on quality.
Achieving more is our future
We strive relentlessly to provide better services and to create higher value attracting competent employees dedicated to helping reach our corporate goals. We always believe in our ability to achieve more.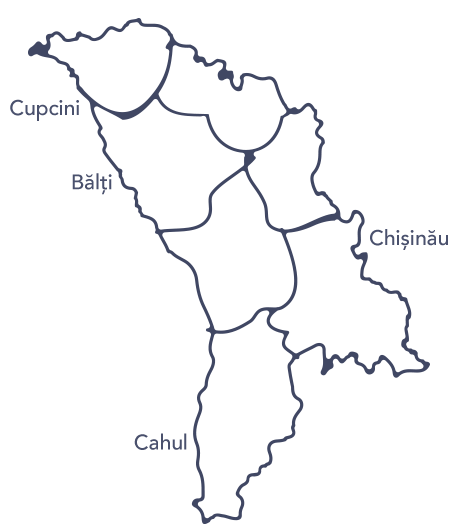 Our Geography
Moldova
Le Bridge is preferred distributor of fast moving consumer goods providing a powerful retail presence.
In the present time it ensures 100% sales coverage by means of distribution branches created throughout all the country, focusing on the highest level of customer service delivering. The main office is placed in Chisinau and the other 3 branches are in Northern region – Balti, Cupcini and in South region – Cahul.
Our People
The success and the future of any company lie in the quality, commitment and diversity of its people. Teamwork is the cornerstone of our commitment to excellence. Le Bridge recognizes that by encouraging employee involvement, valuing employee ideas, empowering employees in the decision making process and uniting employees behind common goals there exists as a force so as resources that are unbeatable.
We work with passion, with commitment to perfection, with "out-of-the-box" thinking and we get developed through innovations.
Quality management
In 2011 the company was awarded with ISO certificate – the confirmation of high quality of provided services. This standard is based on a number of quality management principles including a strong customer focus, the motivation and implication of top management, the process approach and continual improvement. It gives world-class specifications for products, services and systems, to ensure quality, safety and efficiency. They are instrumental in facilitating international trade.
Our partners
Le Bridge Corporation Ltd. Is one of the leaders in distribution, logistic services, sales with a strong, well-balanced brand portfolio. Le Bridge is the exclusive distributor and has a long term business relationship with international leaders.
Our History
Established in 1998, Le Bridge started with being exclusive importer and distributer of Imperial Tobacco products. 111
In 2003 Le Bridge Corporation Ltd. Is the exclusive distributer of British American Tobacco.
In 2008 Le Bridge Corporation Ltd. started developing a new direction of business, namely distribution of frozen products – Sandra ice cream.
Le Bridge Corporation Ltd. starts to be the distributer of Scandinavian Tobacco Group.
Today Le Bridge Corporation Ltd. is a national distribution network with a wide range of products, providing its services to more than 8 000 clients.